New product features
Email messages for monitoring and payments can be sent via the GIS servers, so configuration is simple.
Vouchers with access codes can be printed in a 4x4 format using any letter printer. Print up to 10,000 vouchers at one time. Perfect for Internet-por-ficha-applications.
VLAN for dual wireless SSID provides guests and staff with separate access over one wireless network saving hotel installation cost.
Mobile broadband providers can build a cellular WiFi network with roaming for a town or city.
Backhaul to the Internet through satellite providers with latency adjustment.
Performance improvements, faster user interface with greater throughput for each model.
New diagnostic tools for our support staff that are activated through the customers cloud account.
Free support and software updates; no additional charges.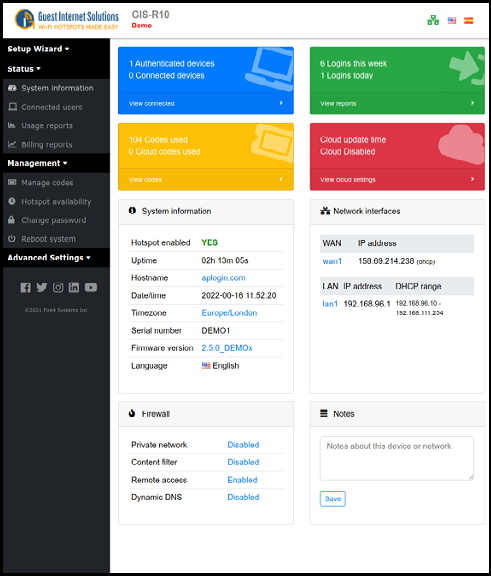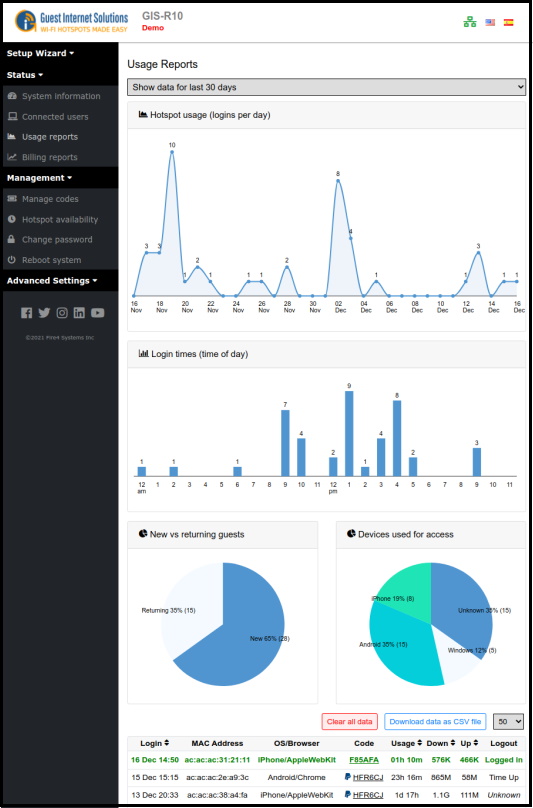 All Guest Internet products have the new generation software that gives our customers performance improvements for each product. The new generation software was designed to benefit popular applications for Guest Internet products.
Hotels, motels and resorts have to provide Internet access for guests and require wireless network access for staff including housekeeping and room service. Guest Internet makes it possible to use one wireless network for both guests and staff while keeping them isolated with a firewall. A great cost saving for any hospitality business. Guest Internet products can integrate with the hotel Property Management System (PMS).
Mobile broadband providers can now implement all the requirements of a mobile broadband business that includes multiple wireless sites managed from one location, roaming between wireless sites and billing methods that include on-line payments and voucher sales.
Small businesses can simplify the process of providing Internet for visitors with a broad range of wireless products that have all the Hotspot features a business will need, ready to use. Guest Internet products can also integrate with a Point-of-Sale (PoS) terminal for Internet café applications.